If you've just moved into a house, then you've likely taken the time to evaluate the lighting, the architecture, and the other design elements of the property. You may have made changes here and there, or you may have undertaken some serious remodeling to make things the way you want them to be. However, it's a good idea to evaluate your home every few years, just to see if there are things you need to change, or to adjust those aspects that you didn't get to the first time around.
At Hortons Home Lighting, we can help you evaluate your lighting and decide which fixtures need to go and which ones need to stay. Whether you're looking at one room or the entire house, we're here to help you find the perfect fixtures that will look great for years to come!
A Bathroom That's Too Dark
You want your bathroom, especially your master bathroom, to have the perfect balance of light and shadow. The space is meant to be relaxing, but if it's too dark, you might feel like you can't fully wake up in the morning, or it might make it frustrating to shave, put on makeup, or even brush your teeth. If all you have in the bathroom is a single overhead light and a vanity fixture with three or four bulbs, then consider adding a few wall sconces on either side of the mirror. This will brighten up your vanity area, and you'll have proper lighting for personal hygiene tasks. If the bathroom is rather large, look at different ways you can add more light, such as placing a fixture in the corner or adding recessed lights above the bathtub.
A Dining Room That's Too Ornate
We know, you want your dining room to be ornate, especially for those two or three times a year when you use it for formal dinner parties. Everything from the chandelier above the table to the sconces on the wall should express taste and elegance, but what if you begin to feel that the space is too ornate? A good place to start is with the chandelier. Is it the right size for the room? Could you perhaps change it out for a fixture that's more modern? There are many new chandelier options that can provide the elegance you want without overpowering the dining room and making the space feel smaller than it actually is.
A Living Room That's Too Bright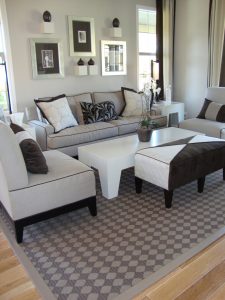 Every area of your living room has a purpose, from watching TV and playing games to entertaining guests and having intimate conversations. Lighting is necessary for all of these things, but if you feel that there is too much light in the room, it could be time to make a change. Over-illuminating your living room can make it feel less inviting, but a well-placed floor lamp can mark the transition between the entertainment area and the seating area, and wall-washing your mantelpiece can provide illumination without the harsh light of mounted fixtures. Consider how you can integrate shadows into your living room in order to make it more appealing, while still balancing the space with the proper amount of light.
At Hortons, we have an outstanding selection of fixtures to choose from, and you can visit one of our showrooms to speak with a lighting expert who will help you select the best options. With locations in La Grange, Chicago, and Orland Park, it's easy to find a location near your home.
Contact us today by using the form below, or stop by one of our showrooms to learn more.
---
We look forward to meeting you!