JOB FAIR IN DOWNTOWN LA GRANGE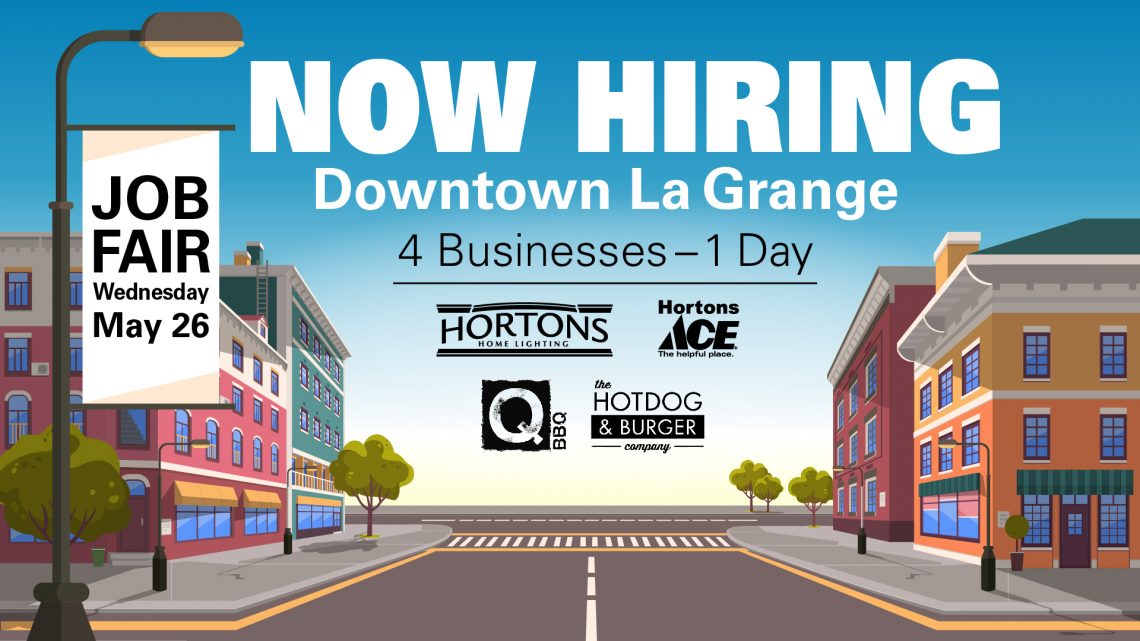 Wednesday, May 26th: 8:00am – 11:00am & 4:00pm – 7:00pm
Hortons Home Lighting, 60 S. La Grange Rd. La Grange, IL 60525
---
LOCAL BUSINESSES NOW HIRING:
Hortons Home Lighting, Hortons Ace Hardware, Q-BBQ, The Hot Dog & Burger Company are Hiring Full & Part-Time Positions in the Retail and Food Service Industry. Don't miss out on the opportunity to meet our Hiring Managers who will be onsite for on-the-spot interviews. Save the date for this great hiring event!
Numerous Positions Available:
Cashiers | Front-End Service Representatives | Hardware Sales Associates | Lighting Specialists | Warehouse | Drivers | Managers | Shift Leaders | Line Cooks… MORE!
Hiring On All Levels:
Salary Positions | Hourly Positions | Commission Positions | Looking for All Skill Sets | Competitive Wages
If you've always dreamed of working for a business that focuses on making a difference in the community, come and see what we're all about. Join our established family owned businesses that are community oriented, with amazing teams, great benefits, and room to grow. We can't wait to meet you!
---
---
WHO WE ARE:

Hortons Home Lighting has been serving the community for over 120 years. We pride ourselves on creating a superior client experience, from the way our stores are merchandised, to the products we carry, and most importantly – the service we provide to each and every person who walks through the door. Our showrooms are busy, and our team is growing! We are looking to hire individuals who are confident, outgoing, entrepreneurial, passionate about community involvement, and energized by providing superior client experiences. If you have an eye for design, customer service background or a knack for connecting with others, consider joining us at Hortons Home Lighting!
---
Q-BBQ has been serving our communities since 2009, when a dream became a reality for a group of friends that had a vision for a modern version of an authentic BBQ restaurant featuring quality food served in a quick casual setting. From La Grange to Naperville to Oak Park, our mission has remained the same: sell reasons to come back. Q-BBQ brings people together by connecting them to the broad and traditional barbeque community at-large. Following the tradition that began when humans first gathered around a fire and smoked meats, told stories, and created the connections that (literally) started civilization. We're proud to be a part of that, and we look forward to sharing it again and again, and again… We have an established reputation of valuing our Team Members and fostering an inclusive and supportive workplace. If you're enthusiastic, hardworking and interested in working at one of the most exciting BBQ restaurants in Chicagoland, we want to talk to you!
---
Hortons ACE Hardware is locally owned and operated and part of a worldwide community of over 5,000 Ace retail stores committed to winning customers through legendary customer service. We consider ourselves as being in the business of solving problems and known for going above and beyond for every customer who walks through our doors. We are committed to our community, and offer our customers knowledgeable advice, helpful service, quality products, and the best brands. We are very proud of our helpful, friendly, and knowledgeable staff with an impressive product inventory! You too can be part of the Hortons ACE hardware family located in the heart of downtown La Grange on the lower level of Hortons Home Lighting. If you've dreamed of working for a business that focuses on making a difference in the community, come and see what we're all about!
---
At The Hotdog & Burger Company, we put the extra in the ordinary. This is where our passion for food meets our love for adventure. Our story is one of innovation, curiosity, and the desire to create something that tastes like nothing you've had before. Not just a restaurant but a great place to work with an ode to the Chicago hotdog, the nostalgia of summers, baseball, and family time. We're bringing back the good ol' days — with a fresh twist. Bold flavors, authentic ingredients, and a first-of-its-kind "Pop Shop" with a rotating menu of over 100 craft sodas. If you're eager, hardworking and interested in working in a fast-paced environment, join our Hot Dog & Burger Company team!
---