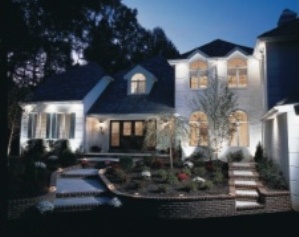 Issue No. 6, Winter 2009
Does your home look dull and lifeless? A few lighting changes can take your home's ambiance from flat to fabulous.
---
Comfort Zone
You've set the scene outside your home, now it's time to create a warm and cozy atmosphere inside. Here are several easy ideas for increasing the elegance of living and dining spaces without inflating the budget.
Add interest by using an exterior lighting fixture in a creative interior application. For example, a sconce traditionally used outside can be a beautiful fixture for a rustically decorated foyer.
Create a comfortable conversation area by repositioning existing track lighting heads and mini-pendants over a seating area.
Highlight a centerpiece or a holiday meal by diming your dining room chandelier and aiming adjustable halogen track or recessed fixtures so that the light shines directly on the tabletop.
Decorate your existing lighting with festive accents. Replace a chandelier's crystal teardrops with gold, silver or red glass balls or use berries or ivy to wrap around lighting hanging fixtures. Change the shades in sconces and chandeliers using the colors of the holiday or occasion.
Hortons showrooms have professionally trained lighting specialists to help you create the perfect ambiance for your home.
---
Bright Tips
If you're staging your holiday party outside, here are some suggestions:
Be certain that stairs and steps are well lit to keep your guests safe.
Create a comfortable area to inspire conversation with a well-designed landscape lighting system that provides low, indirect light.
Define your entertainment area and set a festive mood by using LED wall-washer fixtures to project virtually any color on the side of your home, roofline and trees.
Find the latest color-changing LED products to set your home apart at Hortons Home Lighting.
---
First Impression
It's that time of year when driving around the neighborhood at night can seem almost magical. Simple updates of exterior lights will enhance the home facade.
Accent a focal point on your property with lighting to provide a nice contrast of color.
Install new color-changing LED technology to set your home apart and create a festive mood with custom color scenes. Whether you desire a red roofline or one that fades from red to green and back to red, color-changing LED technology offers creativity like never before.
Replace floodlights that shine upward, with fixtures using LEDs. They provide excellent lamp life and low energy consumption.
For expertise about the types of light fixtures you need to create a stunnng exterior, visit a Hortons showroom.