Issue No. 34
Enrich your home life and family time with flexible lighting that adjusts to suit various activities.
---
Expert Advice
Is there a formula for figuring out how to place recessed lighting to shine on wall art?
To view detailed information that will guide you in placing a light fixture in relation to your wall art, click here. The recommended angle for illuminating light on a wall is 30 degrees, so use the portion of the chart listed under "30º Aiming Angle." The chart provides the distance the fixture should be located from the ceiling dependent on the distance from the ceiling to the center of where the beam of light will hit the art.
---
Comfort Zone
When it comes to bedroom and bathroom lighting, comfort and ambiance take priority. Bathroom lighting should be both hardworking and mood-enhancing. Lights placed at a bathroom vanity and aimed out toward the face can help brighten grooming tasks. Be sure to include dimmers and look for places to add secondary, ambient light. For example, inexpensive, easy-to-install cove or toe lighting can greatly enhance this small, but important space. The key to good bathroom lighting is the use of dimmers.
Enhance your bedroom lighting by increasing the amount of light next to the bed. Often bedside lamps are either too small or are not adjustable, which does not provide light where you need it. Go for a larger size with increased lumen capacity. Or, perhaps a wall sconce with a swing arm that can be brought closer for reading will provide the best light for you. A primary objective for bedroom lighting should be flexibility.
---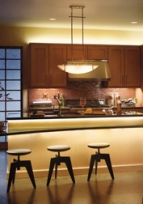 Spot Light
Good lighting is not something most people think much about until they don't have it. Living in a well-lit room is much more pleasurable than trying to do anything – except perhaps watch a movie – in a dark, shadowy space. One room where good lighting is critical is the kitchen. Improve your kitchen's functionality by adding to your task lighting. Many kitchens have plenty of overhead light, but are often lacking when it comes to task lighting. Eliminate shadows by including two sources of light, such as overhead and undercabinet lighting, or pendants and recessed lighting. For added flexibility, you may want to install track lighting to direct light onto specific areas. The key here is light layering.